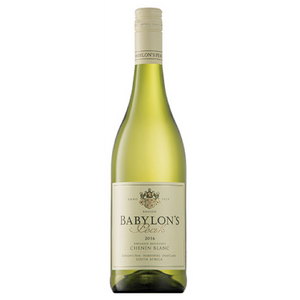 Recognition (Current & previous Vintages):
2007, 2008, 2009, 2013: Veritas Awards – Gold
2013, 2014, 2015, 2016, 2017, 2018: Platter – 4 * rating
Babylon's Peak winery, situated on the highest weathered granite slopes of the Paardeberg Mountain, is privately owned by the Basson family who has passed down the tradition, passion and art of winemaking over four generations. Predominantly low-yield dryland bushvines are selected to produce these excellent wines with distinctive character.
The Chenin Blanc grapes were picked from very old dryland bushvine vineyards. The vineyard grows on weathered granite soils, contributing to the flavour of the grapes and mineral character of the wine. Production is limited to 5 tons/ha.
Winemaking : The grapes were harvested by hand at 22.1°B. The grapes were destalked and lightly crushed. Only the first 450 litres free-run juice per ton were fermented in stainless steel tanks at a cold temperature (10-12°C) for 21 days. The wine was left on the fermentation lees until bottling.
Tasting note : A crisp, fresh and fruity Chenin Blanc from low-yield dryland bushvines.
Food recommendation : Pair with salads, seafood, chicken and other light dishes. The perfect wine for every occasion.